Tomas Berdych once seemed content with a Top 20 ranking, but no longer. He's now a genuine Grand Slam title contender and one of the favourites for the US Open.
It's early afternoon in Washington, D.C. and Tomas Berdych is standing in the middle of the plush lobby of the W Hotel. All six feet, five inches of him. Yet the only person taking any notice is fellow Czech, Michal Novotny (the personal physio of Ernests Gulbis), with whom Berdych is chatting casually. Berdych then sits down to conduct a video interview, yet hotel guests remain engaged in their conversations or buried in their Blackberries.
Welcome to the understated world of Tomas Berdych, who, like Russian Nikolay Davydenko, is more than happy to let his racquet do the talking. It's just part of his DNA.
"I've known Tomas ever since he was a junior playing in Prostějov and he was quiet even back then," says Czech veteran Radek Stepanek. "If he was at a table of 20 people he'd just sit there quietly. He wasn't the one entertaining the table telling jokes or making fun of something."
After his giant-killing run to the Wimbledon final in July, Berdych didn't sign on for a series of parades or parties, not even a welcoming committee at the airport. The closest thing was a press conference in Prague. "There wasn't a lot of fuss like when the ice hockey team returned from the World Championships this year," Berdych says. "But it was still a big moment for Czech tennis and I had a nice press conference with the trophy. Maybe if I had have gone one match more it would have been bigger."
On the court, however, Berdych has been making plenty of noise in 2010 after seemingly treading water for the past four years. Shortly before his run to the Wimbledon final – during which he took out six-time champion Roger Federer – Berdych also reached the Roland Garros semi-finals, in which he led Robin Soderling two sets to one. He now enters the US Open as a genuine title contender.
It's no surprise that Berdych, who also beat Federer en route to the Sony Ericsson Open final in March, has emerged as a legitimate Top 10 player and Grand Slam contender this year. That it's taken this long is harder to explain.
When he broke through to win the ATP World Tour Masters 1000 title in Paris in 2005 shortly after his 20th birthday, Berdych appeared on the fast track to the top of the men's game. But he went title-less the following year and lifted just one trophy a year in 2007, '08 and '09. For a time, it seemed that a comfortable place in the Top 20 was good enough for Berdych.

"He won Bercy and [briefly] got to No. 9 in the world and everyone thought he was going to make his move," says former player, coach and now TV analyst Brad Gilbert. "Then the next few years he was the same. He wasn't doing anything different. And when you stay the same, guys figure out your tendencies as opposed to when you're young and they don't know you.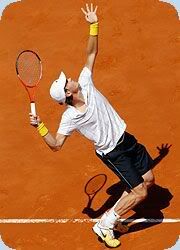 "What's happened now is that he's put in the hard yards and is in much better shape. He's improved his movement a ton. That was a weakness for him. Along with better movement and increased strength, he has been more confident in his shot selection. He's not bailing out and going for winners like he was before. He's trusting his movement. He's pulling the trigger from much better positions in the court and his shot selection has improved dramatically."
Berdych's decision in January 2009 to hire coach Tomas Krupa, who had worked with the super-fit and highly versatile Stepanek for seven years, was a pivotal moment in his career. In addition to improved movement, Berdych has added a slice backhand to his repertoire and isn't afraid to venture to the net.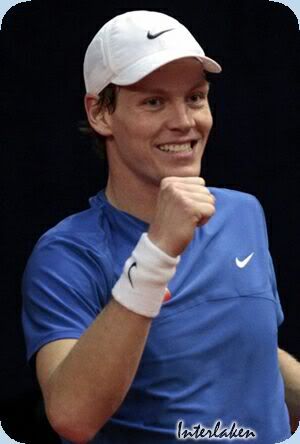 Stepanek says: "Working with my former coach has taught Tomas how to win points in more ways, including from the net, not just with big forehands. Adding these small things to the big serve and big ground strokes he already had has made a big difference.
"He's also really matured and you can see that in his mental approach. Before he would find a reason to hide from the situation on the court – blaming a bad line call or the wind, or something – but he's stopped doing that and is concentrated on every point."
Berdych is also riding the wave of success enjoyed by the new faces at the top of the game, including del Potro, Soderling and Cilic; players who believe that flatter is better. On the surface, the strategy seems counter-intuitive. The success of World No. 1 Rafael Nadal has its foundations in the most vicious topspin arsenal in the history of the game. Roger Federer, Novak Djokovic and Andy Murray also hit with heavy spin. Additionally, those players are also arguably the four best athletes in the game, chasing down shots that in years gone by would have been clean winners.
So what's a less-nimble, lofty ball striker like Berdych, del Potro, Soderling or Cilic to do? Flatten it out, of course, and sacrifice spin for pace. Step into the court and let rip!
"It's one of the reasons some of the guys are playing flatter, without too much spin," Berdych says. "We're not guys like Rafa who move exceptionally well and play great defense, so we have to bring something extra. We're trying to use our biggest weapons."
Like any good doubles partner, Stepanek builds on Berdych's point: "When you take the ball early and hit flat, you're taking time away from guys who need some extra time to get ready to hit the topspin. You put your opponent under pressure right away."
Like most of his Top 10 brethren, Berdych has found a way to successfully adapt his game to all surfaces. He reached the Roland Garros semi-finals on clay and then backed up during the grass season to reach the final at Wimbledon, where he also reached the quarter-finals in 2007.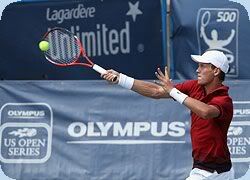 His all-court success can be traced back to his early teens, when as he would play outdoors on clay in the warmer months, but head indoors as the bitter cold set in. "Every time the winters came we'd go back indoors and one time the courts would be faster with a lower bounce and other times the court would be slower with a higher bounce," he explains. "At the time I wasn't thinking that the variety would be an advantage for me in the future, but I think it has helped me to play well on all surfaces. Players today know that if they want to be one of the best in the world there is no way you can be just a clay court player or hard court player."
Also important in Berdych's development was the support of his parents to throw himself into sport. Despite both being professionals, (father Martin was a train engineer and his mother, Hana, is a doctor) Berdych's parents acquiesced to his desire to follow a career in tennis.
"At the start my father didn't have the thought of making me a professional, but he really liked the sport and took me almost every day to the courts. I still need to do all my school work, but my mother would joke that there was no way I would be a doctor and do all that study needed. When I was 10 or 12 she said in a funny way: 'Do whatever you want in life, but don't try to be a doctor.' That's why I started to be a tennis player. I think sport is much better [laughs]."
And tennis is how the reserved Czech has evolved into an entertainer, whether he likes it or not.