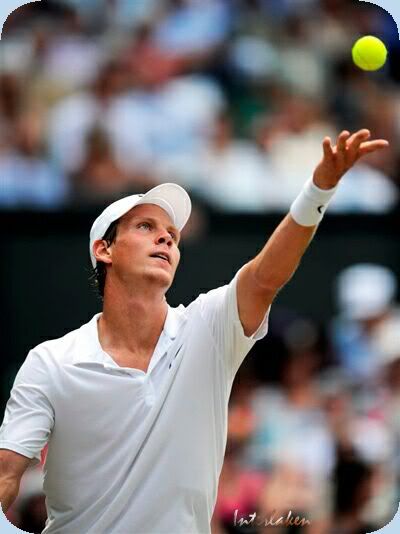 In professional tennis, players develop in a couple of different ways. You have those who are like "freaks" (and that's not meant in an unkind manner) of the game and turn up at a very young age and make a name for themselves. Players in such a category could be someone like Andre Agassi or Pete Sampras or Rafael Nadal.
Then there is the other category. This is the section that the vast majority of players fit into. These are the players that develop their skills over the years and it is usually a bit later in their careers that they start to see the results. Consistency comes into their games and they've developed a further understanding of the game.
What it all boils down to is maturity.
One such player to come into this group of stars is Tomas Berdych. There had always been plenty of talk about how good he was as he was growing up. He was a winner of the Masters 1000 event at Paris-Bercy and at the 2004 Olympic Games in Athens, he scored a huge upset when he beat Roger Federer.
However the Czech youngster was not quite putting the runs on the board in any sort of consistent manner. Observers of the game were suggesting he was going to win a Grand Slam title or two while still quite young. The thing is, Berdych's game was not quite ready. It was that maturity thing.
He flirted with a top ten ranking in 2007, but a year ago he was just keeping his head above water amongst the world's top 20. There were a couple of good results here and there.
In the second half of 2009 those close to him were beginning to notice a few changes. There was a bit more fire in his eyes, and here in Asia he started to make a bit of a move. Last September he helped steer the Czech Republic to the Davis Cup final and he did well in Kuala Lumpur and Tokyo.
Put all that together and confidence starts to brew and the age things comes into play ... you know, maturity. As a result, 2010 has proven to be his most successful year, and at the ripe old age of 24 and 25. He turned 25 just ten days before arriving here in Asian this year.
Tomas started 2010 well - he was a semi-finalist in Brisbane. He followed it up with two great tournaments in Indian Wells and Miami. During the latter he stunned Federer from match point down, beat Fernando Verdasco and Robin Soderling before running into Andy Roddick in the final. The Federer match had a profound effect on the Czech. "It's many things, first of all, it's that you win a couple of matches in the beginning of the year, and then you get confidence and it keeps going and going," Berdych said. "You get more and more experience. I get, you know, a little bit older to be, more focused, mentally stronger than before. That's what you need."
"But its many things together, so I'm very happy that it works. They are all together like in one pack. It works pretty well."
He says everything has to be taken "step by step". Go into every match and face every player with the same goals and tactics and that's to be concentrated and patient and try your best.
One thing that is a big plus for Tomas is the fact that his long-time girlfriend is Lucie Safarova, who is a highly ranked player on the women's tour. While they don't discuss tennis too much when they are away from the courts, the fact that they know what each other might be going through after a loss or a win is a major bonus.
He says growing up in the Czech Republic he didn't have too many idols, in fact he didn't have any, even though the most famous and greatest male tennis player from that country was Ivan Lendl.
"Well, of course so many people just putting me on side with Ivan Lendl, with part of the similar style of the game and any other specific things, like when I won my first tournament and when he did," Berdych said. "You know, it's really nice to be in the part (compared) of his name. But still, you know, he achieved much, much more than me. You know, but the things need to start somewhere. Hopefully this time it's really good time, to start to build, and hopefully get similar results as he did."
In June, Berdych reached his first Grand Slam semi-final at the French Open and a month later followed it up by reaching the Wimbledon Final. He was just two years old the last time a Czech player enjoyed such success – in 1987 Lendl won the French and was also a finalist at the All England Club.
Berdych achieved a rare feat at Wimbledon. He beat Federer again and backed it up by also beating Novak Djokovic. He had knocked off the second and third ranked players in the world in back-to-back matches.
"I mean, it was really great," he said trying to remain composed. "Not many other moments can be comparing to this one, you know, to be standing on Centre Court here in Wimbledon beating the six-time champion of here. Yeah, it couldn't be, I would say, better."
Djokovic had never lost a set to Berdych before but at Wimbledon it was their first meeting at a Grand Slam and the circumstances were certainly different.
"We never played a best-of-five match before," Djokovic said. "Since the last time he has improved a lot. I think he's a more patient player. He's not making as many unforced errors anymore. He moves better. Still the serve is there. He just improved his game and results are coming, obviously."
Tomas is a very big guy. He is almost two metres tall so he has great reach. He is strong. He is channelling all the physical attributes of his game into the mental side of things. A loss is also seen in a different light; they are experiences to learn from. That's what the loss at the French Open was and he was very happy Wimbledon was so soon after because he used Paris as a springboard for London.
"The experience is gonna be many things; it's really many experiences to just go on court, step there, to play my first Final of a Grand Slam," Berdych said after losing to Rafael Nadal at Wimbledon. "Yeah, I mean, it's many emotional experiences and it's so different that you almost have no chance to learn from any other matches."
"I think the only way how I can improve and be better than right now is to play more of these matches, especially to play Rafa more because, you know, his biggest weapon is his left hand. It's not many players like that. It's really tough to find the right rhythm. And I think more matches against him, and I can get the feeling that I can do it better for next time. That's it."
You definitely get the feeling and strong impression that his game is ready to take on all-comers.